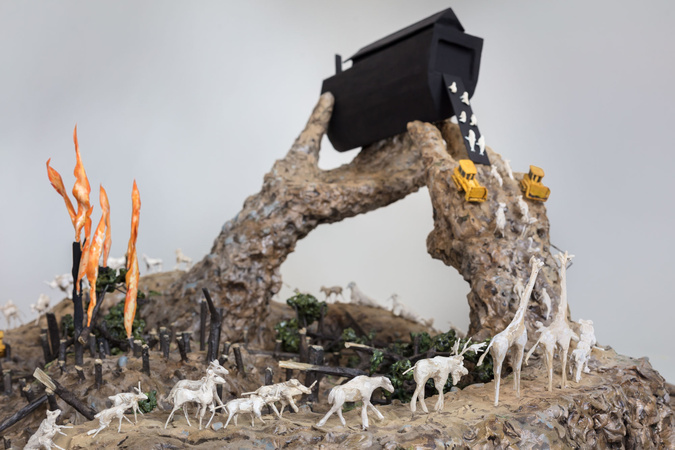 Jude Griebel: Illuminated Collapse
October 18, 2017 – December 15, 2018
Exhibition Details
Jude Griebel:  Illuminated Collapse offers a series of dioramas that project metaphorical End-of-Time narratives.  Richly detailed, they represent anatomies/landscapes engaged in dramatic acts of self-consumption and destruction. Griebel's work occupies a liminal space between difficult fact and dystopic fiction, between techniques of natural history display and whimsical toy models.  It aims to mediate personal space in relation to contemporary consumption, industrial development, and environmental degradation
Jude Griebel is a Canadian artist, working between Bergen, Alberta, and Brooklyn, New York. He completed an MFA in Ceramics and Sculpture from Concordia University in Montreal, Canada in 2014, and has completed numerous residencies including MASS MoCA, North Adams, MA; the International Studio and Curatorial Program, Brooklyn, NY; HALLE 14 Center for Contemporary Art, Leipzig, Germany and the Kunstnarhuset Messen, Norway. His work was featured in Future Station: The 2015 Alberta Biennial of Contemporary Art at the Art Gallery of Alberta, and recent solo exhibitions include El Museo de Los Sures, Brooklyn, NY; Esker Foundation, Calgary, AB; Redpath Museum, Montreal, QC and Galerie Sturm, Nuremberg, Germany. Griebel is a three-time recipient of the Elizabeth Greenshields Foundation grant for emerging figurative artists and is the co-director of The Museum of Fear and Wonder, a Canadian museum that explores the psychological and narrative qualities of objects.
An illustrated catalogue with a critical essay by Tammer El-Sheikh will accompany the exhibition.
Image: Black Ark (detail), 2018, Image courtesy the artist.