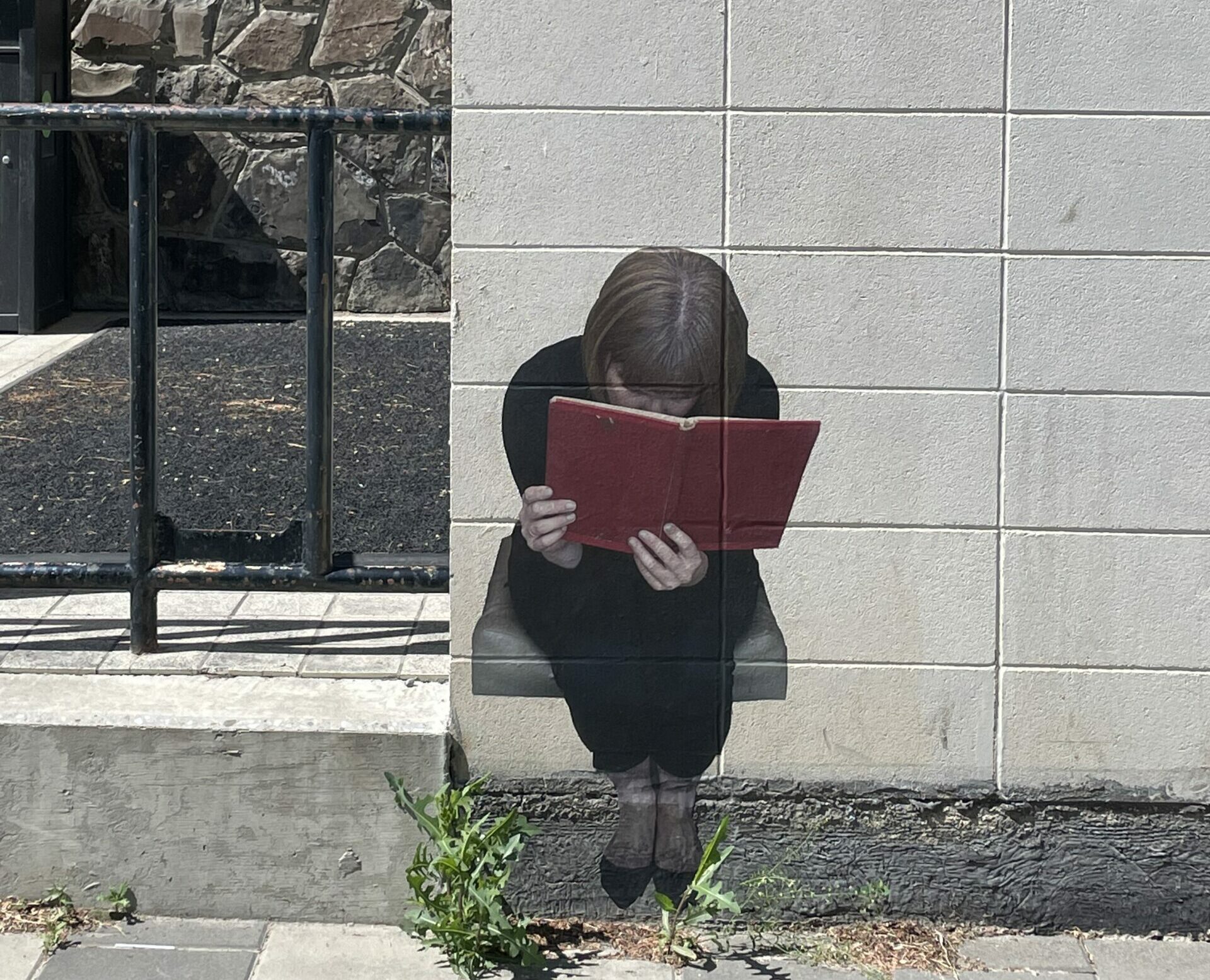 Avert
June 28, 2021 – July 5, 2021
Exhibition Details
Nickle Galleries is pleased to support Heather Leier with the installation of Avert, a public art project drawing attention to the daily effects of gener-based violence that takes place in public. Leier was to present Avert this fall at Carleton University, having been accepted to the Architectures of Hiding conference at the Azrielli School of Architecture and Urbanism. As the conference will now be held online, Leier was asked to find a way to produce the project remotely and create a digital representation. Realizing that UCalgary is a perfect location, she approached Nickle Galleries to assist with coordinating the temporary public art project across campus. Avert will be installed across UCalgary campus on June 28, remaining in place as weather permits.
Artist's Statement:
As you move throughout campus, you may notice images of a young woman awkwardly negotiating the spaces through which you move. Attempting to avoid unwarranted interactions, she regulates her body by making herself small, concealing her head in a book, and hiding behind trees. Positioning keys between her fingers, or staring at her phone; she braces herself.
Drawing on my experiences with public gender-based violence including stranger harassment, through the Avert project I make visible the psychological, emotional, physical, and behavioural effects of such violence which emerge both consciously and subconsciously. This work is situated within the public sites which gender-based violence operates, subtly existing alongside the day-to-day ebb and flow of pedestrian and vehicle traffic. Through this positioning, the work critiques these spaces which can be designed unsafely, and which are undoubtedly socially regulated by settler-colonial heteropatriarchal systems of oppression.
Violence against all women continues to be a significant issue globally however such violence does not impact all communities equally. This project is limited due to its emergence from my experiences as a white, cis-gendered, able-bodied, settler artist and I therefore consider it to be a minor contribution to the increasing cannon of artists who are questioning and problematizing power dynamics within public space. Of note is the significant, collaborative project "Stop Telling Women to Smile" by artist and activist Tatyana Fazlalizadeh which centres the voices of women of colour with the context of street harassment.
Ultimately, through the Avert project, I present the opportunity for viewers to come to understand the impacts of stranger harassment with the intent that with this knowledge they will be less likely to participate in these acts of violence and will more likely become an ally in the fight to stop it. With less stranger harassment, more women will have the ability to move through public spaces safely without restricting their social activities, means of transportation, regulating their bodies and actions, or prioritizing methods of physical resistance. Further, the Avert project aims to validate women's experiences with stranger harassment and engages audiences in understanding their ability to participate in the production of safer public spaces.
Artist's Bio:
Heather Leier is an Assistant Professor in the Department of Art at the University of Calgary in the Treaty 7 region in southern Alberta, Canada. She received an MFA in Printmaking from the University of Alberta and was the recipient of the Southern Graphics Council International Graduate Fellowship in 2016. She has exhibited her work widely both nationally and internationally and enjoys participating in and curating small print exchanges. When she isn't teaching or working on various print projects, she is likely tending to her growing plant collection or helping to facilitate gallery programming at Alberta Printmakers Society.
To read more about Heather Leier and Avert, visit https://arts.ucalgary.ca/news/public-art-project-campus-draws-attention-daily-effects-gender-based-violence
No items found