N@N – Cindy Baker – Artist Talk
Thursday, December 15 - 12:00 PM
Through a lens of popular culture and dry humour, Cindy Baker's practice engages in an ongoing conversation about the interplay between the heavy labour of craft, the labour of industrial production, and the resistance of normative/contemporary/neoliberal expectations of labour and productivity. In this fast-paced lecture, she will take the audience on a survey tour of her artistic production, outlining the connections between her works across diverse media from latchhook to performance while discussing her practice's relationship to labour via low craft, lowbrow culture, activism, taboo bodies, and more. Weaponizing failure as a methodology against labour (to varying degrees of success, obviously), Baker's lecture will work hard to show you how hard she's working to resist working hard.
Cindy Baker is an interdisciplinary performance artist with a background in object-making, whose work explores human relationships to "things" – both her relationship to things as object-maker and artist interacting with the objects of her creation and the audience's relationship to those things, emotional and physical/tactile.
This event is offered live in-person and over ZOOM.
Meeting ID: 949 2548 5218
Passcode: Nickle
Everyone welcome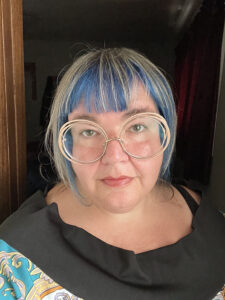 This project has been made possible in part by the Government of Canada, Ce projet a été rendu possible en partie grâce au gouvernement du Canada.