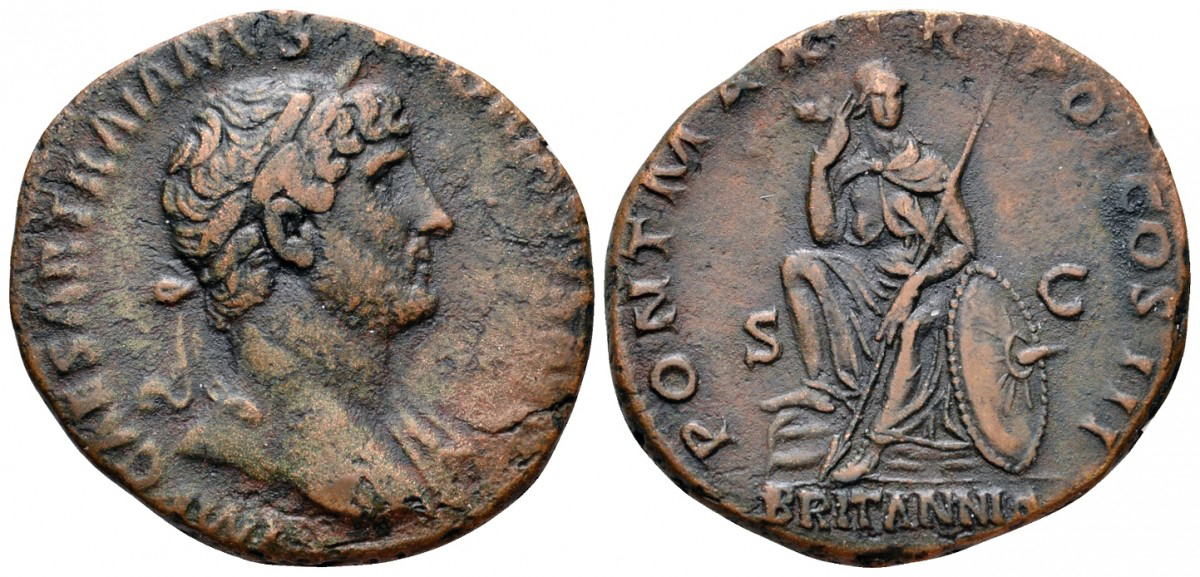 N@N – Victoria Győri – Celebrating the 1,900th Anniversary of Hadrian's Wall in 2022
September 22, 2022 12:00 pm
Event Details
Celebrating the 1,900th Anniversary of Hadrian's Wall in 2022: The Personification of Britannia on Hadrian's Coinage
2022 marks the 1,900th anniversary of the beginning of the construction of one of the most iconic sites in Northern England: Hadrian's Wall.  Between AD 119 and AD 136, Hadrian travelled throughout the Roman provinces to review the administration of his vast empire.  He envisioned the Roman Empire as a commonwealth of peoples – his policy towards the provinces of Rome was thus one of pacification and unification.  Around AD 122, construction began on Hadrian's Wall, a 120km fortified wall marking the northernmost boundary of the Roman Empire which crossed northern Britain from Wallsend on the River Tyne by the North Sea on the East to Bowness-Solway by the Irish Sea in the West.  It took six years to complete, and comprised 80 milestones, numerous observation towers, and 17 forts (such as Birdoswald Fort, the longest continuous stretch of the wall on the western end).  Hadrian's Wall became a UNESCO World Heritage Site in 1987 and offers some of the best hikes you can take in Britain!
If you look at any recent British pence coin from 1969 to 2008, you will invariably find a personification of Britannia seated alongside a lion.  Britannia is to Britain what the Athenian owl is to Greece.  The first appearance of Britannia on coins occurs during Hadrian's reign. Hadrian issued a whole series of bronze coins in Rome related to his travels between AD 134 and 138 – known as his "province" series.  On these coins, the personifications of the various provinces he visited are depicted.   Britannia is the subject of four distinct types – one "Provincia" type, one "Adventus" type, and two "Exercitus" types (RIC 2 Hadrian 845, 882, 912, and 913).  Moreover, she is also seen on a rare bronze as, minted likewise in Rome, dated to AD 119 (RIC 2 Hadrian 577).  This makes Britannia unique in being the only "Provincia" type which belongs to two issues, one to the main "Provincia" series and the other to an earlier period, prior to Hadrian's imperial visit to Britain.  The significance of Britannia as the first province Hadrian paid special attention to has not yet been fully understood, nor has the typology of the Britannia "Provincia" type which shows her armed and unbound rather than in the traditional bound and unarmed pose of a "captured" province.  This paper explores these issues, and so, demonstrates how the emblematic image of Britannia we know today originates from Hadrian's role as a defender and benefactor of Britain.
Dr. Victoria Győri is a Research Associate at the Institute of Classical Studies, London, and is teaching an Introduction to Ancient and Medieval Numismatics Course at the University of Pécs, Hungary, where she is a Lecturer in the Department of Archaeology. She is also currently writing a forthcoming book entitled "Studies in Augustan and Tiberian Coinage."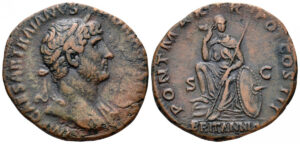 This event is offered by ZOOM only.
Meeting ID: 949 2548 5218
Passcode: Nickle
Everyone welcome